Honorary Fellowships awarded to inspirational staff and alumni
Published: 30/06/2017
Colin Parkin MBE, Sylvia Shepherd and Melly Still have been awarded Honorary Fellowships by York St John University for their outstanding contribution to the university community.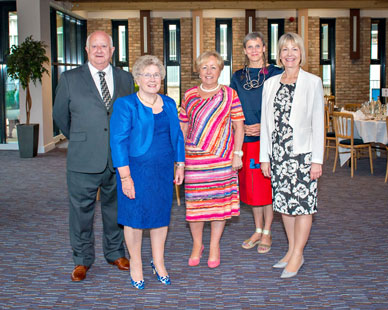 Ann Green CBE, Chair of the Governing Body at York St John, presented the Fellowships at a celebratory dinner held at the Lord Mayor's Walk campus.
Colin Parkin, who recently retired after working at the university for 38 years, was recognised for his unwavering commitment to the growth of the York St John estate. During his time as Director of Estates, Colin's team facilitated multi-million pound projects that won high profile awards and transformed the campus environment. In addition to his contribution to the University, Colin was also commended for his development of business and community partnerships in the city and beyond.
A Fellowship was presented to Sylvia Shepherd, a former Ripon College student who, after graduating in 1970, went on to dedicate her time to bringing together friends and classmates as part of the Past Students Association. After the Ripon and York colleges merged to form York St John, Sylvia and her husband Ken organised many memorable reunions for alumni and she was recognised for her exceptional service and contribution to the University and its community life.
Choreographer, designer, writer and director Melly Still was made an Honorary Fellow for her outstanding success in dance and drama production. A graduate of York St John in 1984, Melly's career has earned her nominations for Tony and Olivier Awards, and she delighted audiences at a special 175th anniversary Go York lecture at York St John last year. She was honoured for her continued inspiration to staff and students from York St John's Drama and Theatre programmes.
Vice Chancellor Professor Karen Stanton applauded the support and creativity of the of the University's newest Honorary Fellows, saying, "These awards are designed to acknowledge the contribution to the success, ambition and future of York St John University by staff members, governors and former students. The three exceptional individuals being awarded are already part of our community but we are delighted to formally recognise their impact and establish them as part of the fabric of this great institution"!
Share this