Revealed - York's Top 100 Businesses
Published: 22/11/2017
Persimmon Plc has topped the list of best performing businesses in York at an awards event held in partnership between York St John University, Make It York and The Press.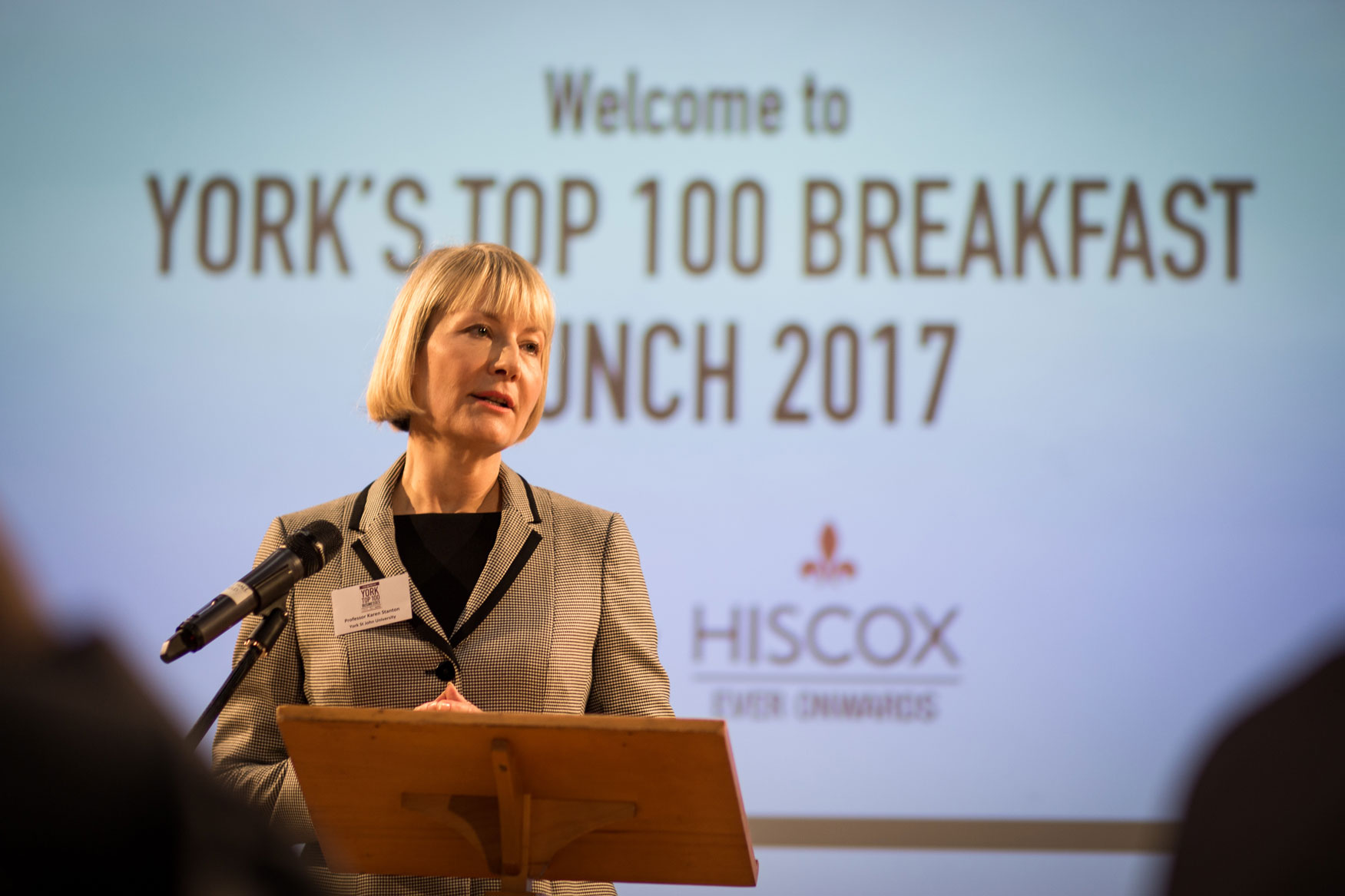 Dr David Norris, Deputy Dean of York Business School said: "The York Business School at York St John University has worked with Make It York and The Press to produce the first ever Top 100 list of businesses headquartered in the city. We were delighted to welcome so many of the businesses listed at today's launch event as part of York Business Week."
A team at York St John University's York Business School spent months researching York's vibrant local business community, diligently gathering data and crunching the numbers to reveal the best performing businesses headquartered or based in the city of York and present an insightful and sometimes surprising list of successful organisations.
Based on financial reporting data, businesses were ranked according to a wide range of metrics, including number of employees, turnover, profit and shareholder funds to paint a glowing picture of economic health amongst the Top 100. Between them, these companies employ over 26,000 people and have a combined turnover of £6.8 billion.
Minster Law Ltd came second on the list followed by Park Leisure 2000 Ltd in third place.
This first ever list of the city's top businesses was published in a 48 page supplement in the November 22 edition of The Press to coincide with York Business Week, a celebration of the strong and evolving business community in our region.
Steve Brown, Managing Director, Make It York, presented the award for first place as well as 'One to Watch', awarded to Optibiotix Health Ltd, ranked 81st in the list but commended for the highest growth in turnover of all the Top 100 businesses.
Mr Brown said: "This is probably the best snapshot of the York local economy that there has ever been. It highlights the breadth and diversity of York's companies and it provides a great benchmark for comparison in future years. The Top 100 is a valuable resource that should now become an annual piece of research and analysis."
Speaking at the event, Professor Karen Stanton, Vice Chancellor of York St John University said: "Universities have an important role to play both as partners to business and in creating opportunities to bring industry, researchers and the next generation of talent together. We hope this list can inspire more conversations that benefit York's business community."
Share this