Theatre lecturer featured on BBC Radio 3's The Verb
Published: 20/03/2017
Nathan Walker, a Senior Lecturer in Performance at York St John University, has been featured on BBC Radio 3's The Verb, in an episode of the programme looking at the language of dance.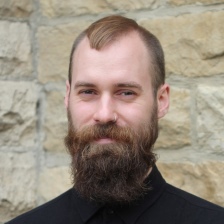 Nathan discussed the publication of his new poetry collection Condensations (published by Uniformbooks) in which he choreographs language to create "slow-collage-word-terrains". The poems in Condensations are described as visual texts for performance where words jumble and collide and overlap on the page until they seem to oscillate, move and dance with each other.
As part of the broadcast, Nathan was commissioned to write a new poem for The Verb that he performed on the show alongside a discussion about the relationship between poetry and movement.
Commenting on his involvement, Nathan said, "I was thrilled to have my poetry on The Verb especially within the context of dance and performance. I often discuss the relationships between writing and performance with students on the drama and dance course at York St John, but to have this conversation on such a public platform like Radio 3 was a real privilege. It was also a pleasure to perform poetry on the radio, to really pay attention to the sound of performance without worrying about its visual appearance!"
He appeared on the programme alongside Ismene Brown, a dance critic who's written for the Spectator and the Telegraph; the poet Scott Thurston; and spoken word artist Maria Ferguson.
The programme can be listened to on the BBC website. A review of Condensations by Sarah Bodman from the Centre for Artists Books is available here.
Share this