York St John ranks high amongst UK's most inclusive employers
Published: 31/01/2018
York St John University is one of the UK's most inclusive workplaces for lesbian, gay, bisexual and trans staff according to LGBT rights charity Stonewall.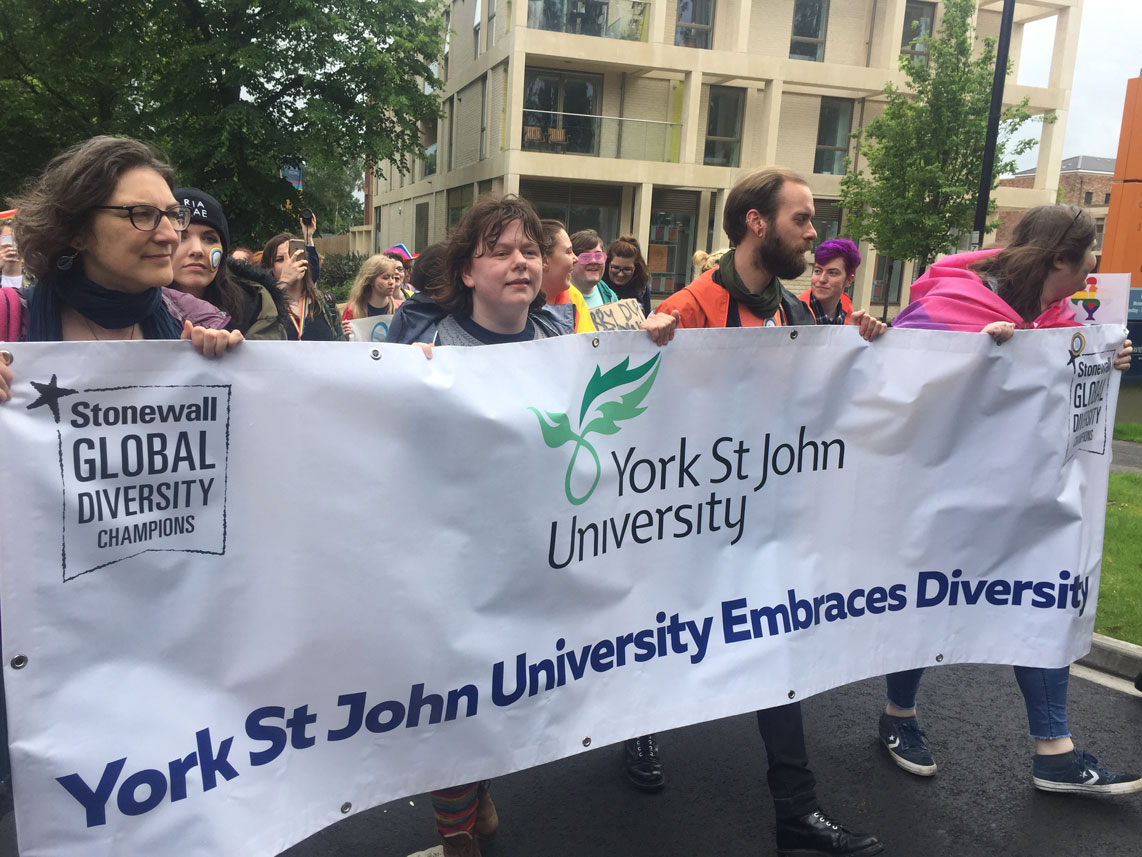 With a position of 24th out of 434 organisations who took part in Stonewall's Workplace Equality Index (WEI), the university has secured its place in the prestigious Top 100 Employers list for the fourth year running.
Vice Chancellor Professor Karen Stanton, a signatory to Stonewall's #NoBystanders pledge said:
"At York St John University we really value the contributions that individuals with diverse identities, backgrounds and experiences make to our community – universities should be places where people are able to be themselves. We are passionate about continuing to develop an inclusive culture for everyone and the work done by all those involved to develop trans inclusivity is testament to this. I am proud that feedback from our staff clearly demonstrates the impact of our commitment to LGBT equality in the workplace."
Now in its fourteenth year, the Stonewall survey enables participating employers to demonstrate their work in areas of employment policy and practice. Staff from across each organisation complete an anonymous survey about their experiences at work and this year, over 92,000 employees completed the staff questionnaire, making it one of the UK's largest national employment surveys.
Stonewall's publication of LGBT in Britain: Trans Report, revealed the profound inequality facing trans people in Britain today, and that half of trans people hide their identity at work for fear of discrimination. The trans inclusive framework introduced at York St John was among the initiatives acknowledged by Stonewall as exemplary for providing staff and students with transgender awareness training and guidance.
Josh Willacy from Stonewall commented:
"It is brilliant to see York St John University in the Top 100 once again this year. By engaging with LGBT staff and students in meaningful ways, exploring diverse identities, and developing LGBT allies across the organisation, the university has created a truly inclusive environment. This has been our most challenging Workplace Equality Index to date and the university continues to set the bar both for the sector and region, particularly when it comes to supporting those who are trans and non binary. To be recognised in this way is a real achievement and is very well deserved."
The University's LGBT staff network has been highly commended for championing LGBT rights in the workplace and their activity includes developing a programme of innovative events for LGBT History Month at York St John University this February.
Share this